Our Patients
Our mission is to develop strong relationships with customers and make a positive difference in the lives of those we serve.
Efficient, Team-Oriented, Dedicated
Peak RehabCare, LLC was established in 2004 to provide efficient, contract rehab services.
As the company name implies, we strive to provide a peak level of services to our clients and customers. We have some of the best and most dedicated therapists in the area. We strive to establish strong relationships with our customers and meet their expectations through provision of quality and efficient care. This is the key to our success and growth.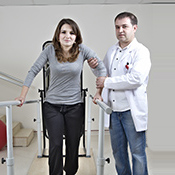 OUR GOALS:
1) To provide the best customer service possible.
2) To make each client feel like the only client.
3) To promote an inclusive workplace and help the community.
Our company's management team offers the benefits of years of experience in the healthcare industry. We are an equal opportunity employer and members in good standing of multiple professional organizations.